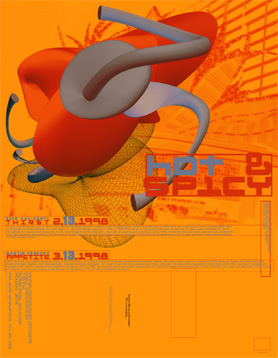 HOT & SPICY POSTER

CLIENT: Design Department
Eastern Michigan University

Hot & Spicy is a 3-D organic creature born from the idea of design metabolism. Simulated organs are alternately stomach, heart, hot pepper or motor, and the input/output ports process desire and consumption. Designed to promote guest lecturers Martin Venezky (Appetite) and Rick Valicenti (Thirst) to students and professionals. Designed with Eli Carrico.