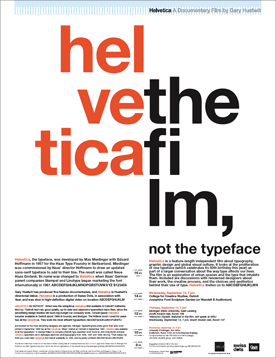 HELVETICA THE FILM

CLIENT: AIGA Detroit

Is Helvetica a font or a film? This film poster plays off the idea that Helvetica is both font and film by repurposing the form of 1960s type specimen sheets.

Directed by Gary Hustwit, the film Helvetica looks at the creation and proliferation of the font Helvetica through discussions with renowned designers, leading me to question: when did Helvetica first become available in Detroit? Local Detroit research provides an answer in the 8- and 10-point type specimens at the bottom of the poster.

Thanks to Katherine McCoy, AGI FIDSA, and Partner, High Ground Tools and Strategies for Design, for her recollections on Detroit typesetters.